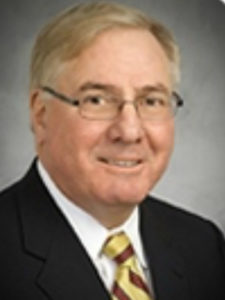 by J. Michael Sweder, President of AT&T Mid-Atlantic States
View the entire newsletter for more articles: 2017 – NJAC County Biz – August
Governor's decision will better connect New Jersey's first responders
Government leaders in New Jersey have much to consider when it comes to public safety. The state's 21 counties, 565 municipalities, 250 boroughs, 52 cities, 15 towns, 244 townships, and 4 villages develop plans, craft individual budgets, and invest taxpayer resources to best meet the needs of their residents, businesses and visitors.
We all know that emergencies don't always follow community boundaries. First responders to a traffic accident on the Garden State Parkway could include the New Jersey State Police, a local volunteer fire department and a county hazmat team. Smooth and efficient communications among these entities – as well as the local trauma center – is critically important.
The same is true for large disasters. Only a few years ago, we witnessed the devastating effects of Hurricane Sandy as it tore across the state and the entire Eastern U.S. coast. During this time, fire, police and nearly 6,700 National Guard were deployed to aid the 9 states and 21 New Jersey counties that remained in a state of emergency. However, fire, police, EMS and other public safety personnel operated on different radio networks, making it difficult to effectively manage conditions on the ground and coordinate a response across multiple counties and states.
The 9/11 Commission identified incompatible first responder radio networks as a major problem for our nation's public safety community. Indeed, incompatible networks can undermine emergency response to fires, traffic accidents, natural disasters and other emergencies, putting lives and property at risk
To address this challenge, in 2012, Congress established FirstNet, an independent government authority charged with developing a public-private partnership to build a public safety communications network that enables public safety personnel to communicate and coordinate on the same network, even across different local, state and national jurisdictions. Earlier this year, FirstNet selected AT&T to build and maintain this network. The law required Governors to review state plans and decide whether to opt in to the network.
On July 25, FirstNet and AT&T announced that Governor Christie was the sixth Governor to opt in to the FirstNet network, clearing the way for the buildout of a communications network that gives first responders the reliable mobile connectivity they want and deserve. At the same time, this public-private partnership will drive continued infrastructure investment in the state, helping to create jobs and boost the economy.
AT&T has deep roots in New Jersey and has been investing in our communities for more than a century.   We have approximately 7,900 employees working in New Jersey, and our products are available in more than 350 retail locations across the state. Between, 2014 and 2016, AT&T invested $1.4 billion in our wireless and wireline network in New Jersey. The investments we've made in our mobile high-speed internet network provide a strong foundation for the future FirstNet network.
FirstNet and AT&T are excited to work with the State of New Jersey to implement this public-private partnership that will help our nation's public safety personnel perform their life-saving jobs. In order to maximize the network's impact across the state, it is important that local public safety agencies across the state adopt FirstNet services and technologies. This will provide their first responders with access to the communications capabilities they need to help enable efficient coordination and communication across every jurisdiction and agency—locally, regionally and nationally.
It's what first responders have asked for – and it's what AT&T and FirstNet are ready to deliver.