The New Jersey Association of Counties (NJAC) hosted an educational and informative Summit on December 8, 2017 from 10 a.m. to 2 p.m. at the Trenton Country Club located at 201 Sullivan Way in West Trenton.  Over 250 government officials, with representatives from all 21 counties, and business leaders turned out for this event.  There were two panel discussions which were moderated by Eric Scott of Townsquare Media & NJ 101.5.  The first set of panelists examined the State's alarming opioid epidemic and presented viable strategies for combating this public health crisis. Additionally, the second set of panelists discussed resources for recovery and recommended new approaches for providing vital support to those in need.
Panel 1
Frederic Knapp, Esq., Morris County Prosecutor
Shaun Golden, Monmouth County Sheriff
Juan Colon, New Jersey State Police Major
Dr. Jim Baird, Jefferson Washington Township Hospital & Rowan University Emergency Medicine Physician
Louise Habicht, Parent-to-Parent Founder
Panel 2
Honorable Louis Cappelli, Jr., Camden County Freeholder Director
Angelo Valente, Partnership for a Drug Free NJ Executive Director
Lisa Gladwell, Esq., NJ Recovery Advocates Founder and Chairperson
Michael Litterer, RWJBarnabas Health Institute of Prevention Director
Dr. Michael W. Shore, The Malvern Institute Recovery Center – Medication Assistance Recovery Program Director
Dr. Baird of Jefferson Washington Township Hospital & Rowan University Emergency Medicine remarked, "This epidemic does not discriminate and has no boundaries."  He continued to say, "We had an 11-year-old overdose.  He saw his father snorting this white stuff off the coffee table.  He wanted to be just like dad, so he did it and overdosed."
Law enforcement officials say arresting their way out of the epidemic is not a viable option. Instead, they're looking toward attacking the demand.  "It is a daily effort, really 24-7 in public safety.  A multiple prong approach, some of which we'll hear today when we talk about education, enforcement, recovery, and treatment – both short-term and long-term," says Monmouth County Sheriff Shaun Golden.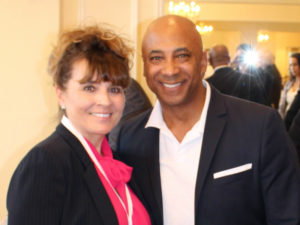 Vance Johnson, Marketing Liaison for Futures of Palm Beach and Super Bowl Champion & Former NFL Broncos Wide Receiver, closed the event as the keynote speaker.   Mr. Johnson is a recovering addict and now celebrating three years of sobriety.  He offers hope to the struggling addict and their families by sharing his own journey from addiction through treatment and the strength of his faith.  During his career with the Denver Broncos, Mr. Johnson began drinking to escape the pressures and reality of his life.  The tragic and untimely loss of his son caused his alcohol addiction to worsen, sending him down a desperate and self-destructive spiral which eventually culminated in a 26 day coma.  Even after waking from the coma, he had a series of failed recovery attempts.  Alcoholism had completely taken over his life.   He finally sought help from a friend and began his treatment at Futures of Palm Beach where he learned from the experiences of others and had a successful recovery.  Since completing his recovery and treatment, Mr. Johnson has been instrumental in helping patients overcome their addiction and reclaim their lives.
NJAC would like to take this opportunity to thank its speakers, sponsors, vendors, and all that showed their support during this event on such a critical topic.