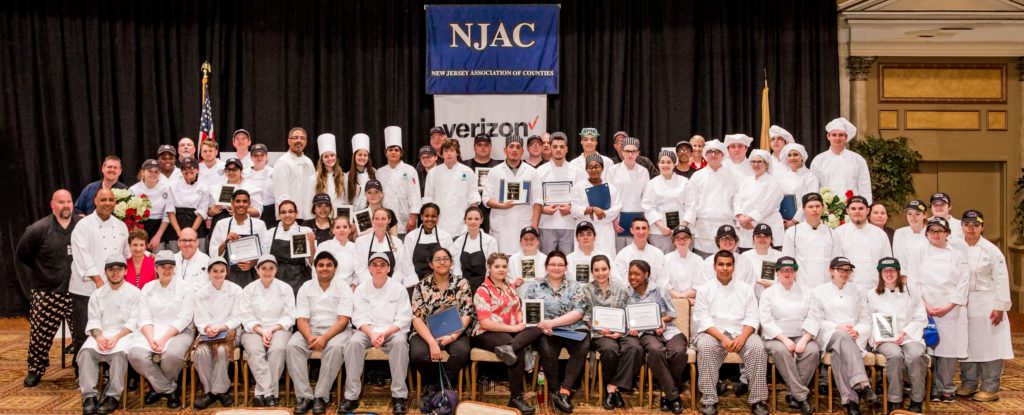 The New Jersey Association of Counties (NJAC) is pleased to announce that it's hosting the 6th annual county vocational-technical school cook-off challenge at  12:30 p.m. on May 12th at Caesar's in Atlantic City.
"We're thrilled to once again provide culinary art students from county vocational-technical schools across the State with the unique opportunity to showcase their incredible talents," said NJAC President and Gloucester County Freeholder Heather Simmons. 
Culinary art students from county vocational-technical schools in Bergen, Camden, Cumberland, Gloucester, Essex, Hudson, Mercer, Middlesex, Monmouth, Morris, and Passaic counties have been selected to compete for titles in taste, creativity, and food presentation.  Each team will consist of 5-6 students and 2 staff members, and must create 400 samples of appetizers at a total cost of less than $500.00.  NJAC officials, Atlantic City chefs, and convention guests will have the enjoyable task of judging the tough competition that will close NJAC's 67th annual celebration of county government.
The Cumberland County Technical Education Center retained its title in 2016 as the People's Choice Champion with an amazing black pepper & molasses-lacquered short rib that we hope they make again.  Guests were also treated to pork belly and chicken confit tostada with locally foraged ramp kimchi and Korean barbecue sauce, lobster roll with roasted corn and tomato served on freshly-baked buns, grilled shrimp with tomato cantaloupe salsa and basil sorbet, marinated flank steak, coconut-infused risotto pancake topped with grilled marinated shrimp, applewood smoked scallops with pears and roasted poblano relish, and much more.
"The cook-off challenge keeps getting better each year and has become our signature event. I can't wait to enjoy all of the fantastic dishes prepared by these impressive young men and woman as future restaurant owners and gourmet chefs," commented Simmons.
Special thanks to the New Jersey Council of County-Vocational Technical Schools for their hard work and commitment to making the cook-off challenge a tremendous success.  Please click here for additional details about this one-of-a-kind event and our 67th annual celebration of county government also featuring: an inspiring County College Acapella Sing-Off; the opportunity to meet the 2017 gubernatorial candidates; an insightful reporters' roundtable; accredited workshops approved for continuing education credits; and the unique opportunity to network with community and business leaders from across the State.   Sign up now!