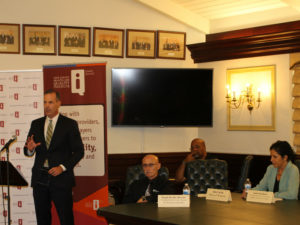 by Marilyn Gordon, M.D., Chief Medical Officer for UnitedHealthcare of New Jersey
View the entire newsletter for more articles:  2017 – NJAC County Biz – January
Last month, United Health Foundation released the 27th annual America's Health Rankings, the longest-running assessment of the nation's health on a state-by-state basis. According to the 2016 report, New Jersey ranked number 9, up two slots from last year.  This two-step jump is even more telling when you take a historical look at the report which shows that just five years ago, New Jersey ranked 17th.
Today, New Jersey can proudly call itself the ninth healthiest state in the country and point to the following strengths that helped it reach this ranking:
Low rates of smoking: New Jersey has the third lowest percentage of smokers in the nation, with only 13.5% of adults who are smokers. In the past three year's smoking decreased 22% from 17.3% to 13.5% of adults.
Reduced obesity rate: While obesity continues to be a widespread health issue, the percentage of obesity among adults dropped for the first time in many years, going from 26.9% to 25.6%.
Low rate of infant mortality: The state has the second lowest rate of infant mortality in the country. In the past five years, infant mortality decreased from 5.4 to 4.4 deaths per 1,000 live births.
On the other hand, the nation, including New Jersey, still has health challenges to overcome:
Drug deaths: As a whole, the nation is facing an epidemic of drug-related deaths with a total of 14 per 100,000 population New Jersey, like many of her neighbors to the north, faced a similar challenge.
Rising physical inactivity: The percentage of New Jersey adults who reported doing no physical activity or exercise outside of work in the last 30 days rose sharply from 23.3% to 27.2%.
As leaders in our communities, it is our responsibility to encourage employees, residents, colleagues, families and friends to keep moving. UnitedHealthcare provides a range of useful, preventative programs that employers and residents can take advantage of to ensure New Jersey remains in the top 10.
For example, through UnitedHealthcare's "Sweat Equity" program, New Jersey residents with Oxford health insurance can earn cash rewards for participating in Sweat Equity-eligible exercise programs such as Zumba, kick-boxing, yoga, swimming, tennis, racquetball and biking. In addition, members have free access to our Health4Me app as well as disease management tools to help manage chronic health issues.
"The New Jersey Health Care Quality Institute's "Healthy Communities create Healthy Citizens" initiative, supported by a partnership grant from United Health Foundation, aims to improve chronic disease management, health literacy, and access to healthy lifestyle initiatives in three New Jersey communities. Cumberland County, one of the three communities, established a Healthy Corner Store Network and Healthy Worksites throughout the county as part of this initiative. Twenty-seven corner stores in Cumberland County are participating in the Healthy Corner Store Network, which helps store owners stock healthier food.
Utilizing these resources and maintaining healthy habits will help sustain New Jersey's overall health ranking. Together, let's help all counties maintain a healthy lifestyle in 2017 and beyond.
For more information about America's Health Rankings and the complete list of results, visit www.americashealthrankings.org; Twitter: @AHR_Rankings; Facebook: www.facebook.com/AmericasHealthRankings
For more information about the New Jersey Health Care Quality Institute's "Healthy Communities create Healthy Citizens" initiative, visit www.njhcqi.org/HCHC.