by Alannah Dragonetti, Head of Marketing for GovPilot
View the entire newsletter for more articles:  2018 – NJAC County Biz – January 
Each new year brings an opportunity for improvement. In 2018, GovPilot is taking that opportunity and flying with it! Introducing: Jet Mode—an interface that makes it easier than ever to find, process and share your most critical data.
Updates Old Favorites
Jet Mode improves upon key GovPilot features, including:
PropertyProfile
The cornerstone of our platform, GovPilot's PropertyProfile feature ensures that all constituent data links to the appropriate parcel for orderly tracking and more informed decisions. Jet Mode takes this integral feature to a higher plane of convenience.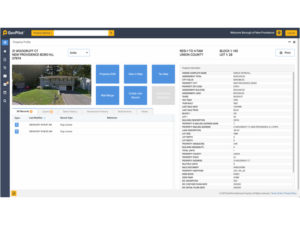 Data displayed in the new PropertyProfile's right hand column can be customized to fit your needs. See all images/data associated with a property, attach and take notes within the profile and create new records for apartments/suites. Tour any property, without leaving the office!
Scheduler
Automated assignment capabilities have always helped GovPilot clients communicate with colleagues and stay on task. We've outdone ourselves with Scheduler in Jet Mode!
In Jet Mode, your schedule is always flexible. Our new interface allows you to open records directly from your calendar. Group users by department, project, etc…and isolate their agendas to make big plans with ease and efficiency.
Offers New Features
What would a new interface be without new GovPilot features? In addition to enhancing the user favorites listed above, Jet Mode brings:
Dashboard
Jet Mode places you in the pilot's seat. Your Dashboard is a custom arrangement of color-coded tiles that allows you to access project status and employee productivity.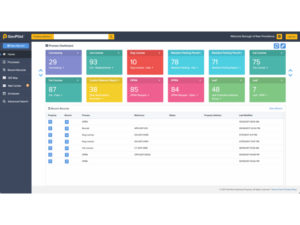 When clicked, each tile opens a different view. Arrange and add an unlimited number of tiles with unparalleled ease. Never worry that your changes are unsaved. The Dashboard automatically updates each minute. If that isn't fast enough for you, simply click "home" to prompt an update.
Mail Center
Visualize your workflow notifications and easily collaborate with staff using familiar email conventions in Mail Center.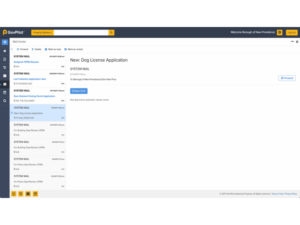 This feature delivers. See tasks for every record assigned, forward updates (complete with notes attached) to colleagues and minimize messages to explore other parts of the system. Like any dutiful delivery service, Mail Center works via your desktop at the office in sun or through your laptop at home during snow, rain, heat, or gloom of night.
Multi-Task
As the name implies, Jet Mode's Multi-Task capabilities empower you to do everything at once, without feeling overwhelmed.
Open tasks/projects simultaneously for more efficient workload management.
Jet Mode may remove the turbulence from your daily operations, but you should still fasten your seatbelt because productivity is about to take off!
About GovPilot
GovPilot is a cloud-based Government Management Platform. GovPilot allows governments to replace antiquated paper processes with digital automation. By incorporating a digital environment, local governments can operate at increased efficiency levels. GovPilot unifies fragmented departments and data to facilitate better communication between elected officials, employees and the public to promote more informed decision-making. The platform offers local governments approximately 100 plus digital, automated processes to choose from. Governments can select digital FOIA, Building & Construction Permitting, Code Enforcement and other processes. GovPilot offers its customers unlimited user licenses, allowing data to be managed and shared by stakeholders 24/7, from the office, the field, or the comfort of their home.
For more information about this topic, please contact Alannah Dragonetti by telephone at (201) 222-1155 or via email at alannah@govpilot.com