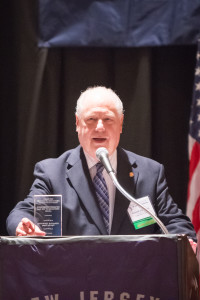 The New Jersey Association of Counties presented Cape May County Freeholder Director Gerald M. Thornton with the "Maurice Fitzgibbons Freeholder of the Year Award" at its 65th annual celebration of county government last week. The award is named after long-time Hudson County Freeholder and former NJAC President Maurice Fitzgibbons, who passed away in 2011.
"Jerry Thornton is an extraordinary gentleman, who is well deserving of this award for his leadership, enthusiasm, and commitment to delivering essential services in a cost effective manner that has truly benefitted county governments across the State," said NJAC President and Mercer County Freeholder Ann Cannon. 
NJAC also presented "County Service Awards" to Essex County Purchasing Agent Jim Jorgensen, Somerset County Public Works Director Paul McCall, Gloucester County Jail Warden Eugene Caldwell, and Camden County Welfare Director Sean Sheekey as exceptional county professionals. The nation's only county vocational-technical school cook-off challenge once again stole the show as culinary art students from Bergen, Camden, Cape May, Cumberland, Essex, Hudson, Hunterdon, Mercer, Middlesex, Morris, and Passaic counties competed for titles in taste, creativity, and food presentation. Cumberland County won the coveted People's Choice Award with Cape May County earning a silver medal and Passaic County winning bronze.
"Congratulations to each of our award winners – especially to the incredibly talented culinary art students who get better each year and worked very hard to prepare outstanding dishes of Confit of Canvas Back Duck, Japanese Cured Salmon Roll, and the best Slider I've ever had," commented Cannon.
NJAC is committed to advocating for legislation, regulations, and policy directives that empower county governments to operate more effectively and efficiently.  As a non-partisan organization that represents the only true regional form of government in the State with a unified and proactive voice, NJAC is dedicated to advancing innovative programs and initiatives that enhance the level of service provided and save valuable taxpayer dollars.