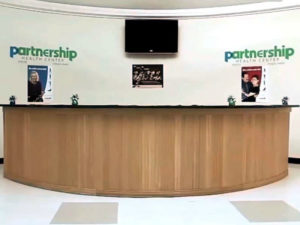 View the entire newsletter for more articles:  2016 – NJAC County Biz – August
Public Entities and their Employees
Integrity Health is a Health Benefits Management company that specializes in empowering employers and employees to manage and control healthcare spending without reducing benefits but actually enhancing them!
"Lower Costs Through Better Health" is our motto.  How do we do this?  Through the use of our Partnership Health Center, known to participating employees as their "PHC".
Integrity Health is currently providing these services for several Public Entity employers. Partnership Health Center connects County employees and their dependents with the most competent primary care doctors and advanced practice nurses available, as well as pain management and behavioral health providers. We then secure referrals (and quick appointments) to the right specialists in order to coordinate care for the best health outcomes. We want your employees and their families well for work—and play. Promoting easy access to efficient care is key to healthcare success.
Through the PHC, Integrity Health offers your County Employees and their dependents "one-stop shopping, same-day appointments" —all at a convenient dedicated location, open 7 days per week– for the following:
Doctor Visits
Xray
Lab work
Rx
Physical Therapy
Chiropractic
Pain Diagnostics
Disease Management
Wellness & Nutrition
While we work with both Private and Public Sector Employees, our model works especially well with Public Sector Employees. Listed below are six unique aspects of Integrity Health that have directly contributed to our success in managing public sector health plans:
Integrity Health has references for current services provided to New Jersey public employees through an on-site, M.D. based, employer-dedicated, primary care and pharmacy facility.
Integrity Health provides professional union and patient advocacy staff to coordinate union leadership and member relations.
Integrity Health manages patient-centered-medical-homes for eligible employees from employer-dedicated facilities according to NCQA standards.
Integrity Health directly contracts and manages Third Party Administrators ("TPAs") and provider networks on behalf of health plan sponsors and integrates them for on-site medical home purposes.
Integrity Health directly contracts and manages non-network provider relationships on behalf of health plan sponsor and integrates them for on-site medical home purposes.
All revenue received directly from client pursuant to fixed, contracted fees. Integrity Health is the only NJ health plan manager which receives no revenue—directly or indirectly—from insurance carriers, networks, providers or TPAs.   There are no conflicts of interest, we serve only your employees and their dependents.
It is important to note that a PHC is not an "urgent care clinic" for those who have nowhere else to go or not enough time to visit an emergency room; these are helpful in a pinch but of limited capability. A PHC also provides urgent care types of services but it is much more. It is a robust health center for primary care, pain management and behavioral health related services, functioning—on a voluntary basis for those who use it—as the "hub" of the healthcare wheel for care coordination purposes.
Many of you stopped by our booth at the New Jersey Association of Counties Meeting in Atlantic City, and were able to view a virtual tour of one of our New Jersey Facilities. For those interested in learning more, here is the link to the virtual tour.
To learn more about Integrity Health please contact Joe Whalen via e-mail at joe.whalen@integrityhealth.com or visit http://integrityhealth.com/Pages/HealthCenterVideoPopUp.aspx