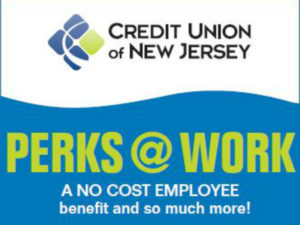 by Connie Sullivan, Business Development Manager for Credit Union of New Jersey
View the entire newsletter for more articles: 2017 – NJAC County Biz – April
Credit Union of New Jersey is chartered by the New Jersey Department of Banking and Insurance to be the credit union for all State of New Jersey employees, and we are now pleased to be able to serve local government employees at the county, municipal, and township level. Our Perks@Work program, designed for our civil service partners, offers exclusive membership benefits and discounts.
Credit Union of New Jersey was chartered in 1943 to serve State Highway Department employees. Back then, we only offered share savings accounts and personal loans. Today, we serve over 43,000 members from over 200 organizations in addition to our original charter group and deliver a robust financial product and service offering that delivers convenience and value to our member owners.
CUNJ exists for one purpose, to provide our members with more. CUNJ is committed to providing more access, more financial options, more savings, and more personalized service than our competitors. With the extra convenience of over 50,000 surcharge-free ATMs, Shared Branching, Mobile Banking, e-Deposit and Online Applications, Credit Union of New Jersey makes it easy to do your banking. However, the distinction we are most proud of is our member-centric focus on providing the highest quality service to our members.
We believe that our members deserve the most competitive rates, and the finest services available, in a progressive financial institution that is safe and convenient. Every service has been designed around the needs of our members. Helping you to maximize your money and be in control of your financial life is our sole purpose. From the moment you become a member, you'll feel the difference at Credit Union of New Jersey.
Getting started is easy. Our Business Development Department is available to work with state and local government employees, as well as our employer group partners, to establish membership and become your department's Financial Wellness Partner. Contact us today at businessdevelopment@cunj.org to inquire about enrollment for you and your staff, and to take advantage of our special Perks@Work program.