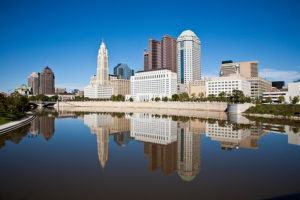 July 21 -24
Columbus – Franklin County – OH
The National Association of Counties (NACo) Annual Conference is the largest gathering of county officials in the country and the foremost opportunity to exchange information with your peers and learn from nationally renowned experts on topics directly related to serving your residents. The Annual Conference is also where we set our federal policy agenda for the year ahead.
NACo's 2017 Annual Conference in Franklin County (Columbus), Ohio will offer over 50 committee meetings, plenary sessions and educational workshops, including four mobile workshops designed to give you first-hand insights into:
Nationwide Children's Hospital – one of America's leading health care and research facilities supporting more than a million patients and families annually
Ohio State University Campus Agriculture – Franklin County, the City of Columbus and community partners leverage food system development to revitalize neighborhoods, improve health, address food   insecurity and foster economic growth
Rickenbacker Inland Port – a global multi-modal logistics hub for product distribution to U.S. and Canadian consumers
Scioto Mile and National Veterans Museum
The Annual Conference also features an exhibit hall with over 150 companies displaying the latest products and services geared towards county needs. Make new contacts with vendors and NACo partners offering potentially cost-savings solutions specific to county governments.   Columbus – Ohio's capital and the 15th     largest city in the United States – is located within 550 miles of more than half of the U.S. population.
Conference registration fees are significantly discounted for those counties that are already members.
If your county is a non-member, then NACo is offering FREE individual registrations to the 2017 NACo Annual Conference upon your county joining NACo.  Contact Andrew Goldschmidt, Director of Membership Marketing, at 1 (888) 407-6226 x221 or agoldschmidt@naco.org for more information on this unprecedented offer.  Learn why your county should be a member by visiting www.naco.org.