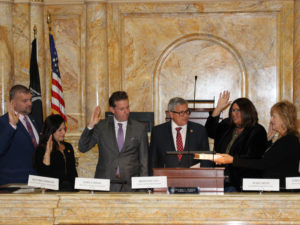 On Friday, January 26th, Hunterdon County Clerk Mary H. Melfi was sworn in as the 77th President for the New Jersey Association of Counties.
Honorable Melfi began her third five-year term as Hunterdon County Clerk on January 1, 2017.  She has been a resident of the county for over 40 years growing up in Lebanon Borough and now residing in the Borough of Flemington since 1977.  Honorable Melfi served on the Borough of Flemington's Council from 1994 through 2006 and remains active serving as the Emergency Management Coordinator and a member of the Planning Board.  She also was one of the first in the County to serve with the Community Dispute Resolution Program as a certified mediator, and is a Past President of the Hunterdon County Municipal Officers Association.  Additionally, she is an active 30+ year member of the American Legion Post 159 Ladies Auxiliary and received the Distinguished Service Award from the Hunterdon County Marine Corp League for her support of veterans.
Honorable Melfi is currently serving as the 2nd Vice President on the Board of the Hunterdon County Chamber of Commerce and serves as a Trustee of the 200 Hunterdon Club of Hunterdon County.  She has been recognized by the Hunterdon County YMCA, Hunterdon Prevention Resources and SAFE in Hunterdon for her contributions to the community. She was featured on NBC Nightly News with Lester Holt as a Person Making a Difference for her relationship with SAFE in Hunterdon.
She is involved with the Constitutional Officers Association of New Jersey where she served as President from 2009 to 2010 and currently serves as Treasurer, Legislative Liaison and Deputy Section Chief – Clerks Division.  Honorable Melfi takes an active interest in new legislation affecting the Clerk's office and her constituents and will often appear before legislative committees offering testimony.
Senator Kip Bateman of New Jersey Legislative District 16 honored NJAC by swearing in its Board of Directors and Executive Committee Officers, while retired Hudson County Surrogate Donald W. De Leo performed both the invocation and benediction.
2018 Executive Committee Officers
President Mary H. Melfi, Hunterdon County Clerk
1st Vice President Brendan W. Gill, Essex County Freeholder President
2nd Vice President E. Marie Hayes, Cape May County Freeholder 
Secretary-Treasurer John Cimino, Mercer County Freeholder Vice President
Immediate Past President Heather Simmons, Gloucester County Freeholder
2018 Board of Directors
Atlantic County Freeholder Chairman Frank D. Formica
Bergen County Freeholder Chairman Thomas J. Sullivan
Burlington County Administrator Eve Cullinan
Camden County Freeholder Director Louis J. Cappelli, Jr.
Cape May County Freeholder Director Gerald Thornton
Cumberland County Freeholder Director Joseph Derella
Hudson County Freeholder Jerry Walker
Hunterdon County Freeholder John W. King
Middlesex County Freeholder Charles Kenny
Monmouth County Freeholder Patrick Impreveduto
Morris County Freeholder Director Douglas R. Cabana
Ocean County Freeholder John P. Kelly
Passaic County Administrator Anthony DeNova III
Salem County Freeholder Director Melissa DeCastro
Somerset County Freeholder Brian D. Levine
Sussex County Freeholder Carl F. Lazzaro
Union County Freeholder Bette Jane Kowalski
Warren County Freeholder Richard D. Gardner
Mercer County Executive Brian M. Hughes
Monmouth County Sheriff Shaun Golden
Somerset County Surrogate Frank Bruno
Gloucester County Improvement Authority Executive Director George Strachan
Appointments
Recognition of 2017 Outgoing County Elected Officials :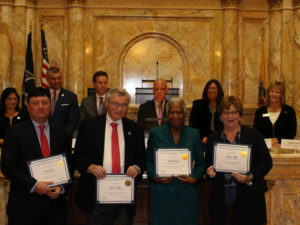 Reception at the Historic Trenton Masonic Temple sponsored by Election Systems & Software and catered by Hunterdon County Polytech HS Culinary Department