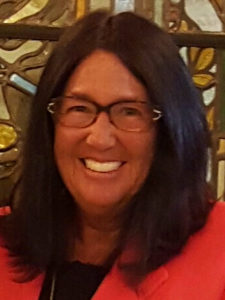 Beginning at 11:00 a.m. the 2018 NJAC Reorganization Meeting will take place on Friday, January 26th, in the Senate Chambers of the New Jersey State House.
Hunterdon County Clerk, Mary H. Melfi, who currently serves as NJAC Secretary-Treasurer, will be sworn in as our organization's 77th President.  Honorable Melfi began her third five-year term as Hunterdon County Clerk on January 1, 2017.  She has been a resident of the county for over 40 years growing up in Lebanon Borough and now residing in the Borough of Flemington since 1977.  Honorable Melfi served on the Borough of Flemington's Council from 1994 through 2006 and remains active serving as the Emergency Management Coordinator and a member of the Planning Board.  She also was one of the first in the County to serve with the Community Dispute Resolution Program as a certified mediator, and is a Past President of the Hunterdon County Municipal Officers Association.  Additionally, she is an active 30+ year member of the American Legion Post 159 Ladies Auxiliary and received the Distinguished Service Award from the Hunterdon County Marine Corp League for her support of veterans.
Honorable Melfi is currently serving as the 2nd Vice President on the Board of the Hunterdon County Chamber of Commerce and serves as a Trustee of the 200 Hunterdon Club of Hunterdon County.  She has been recognized by the Hunterdon County YMCA, Hunterdon Prevention Resources and SAFE in Hunterdon for her contributions to the community. She was featured on NBC Nightly News with Lester Holt as a Person Making a Difference for her relationship with SAFE in Hunterdon.
She is involved with the Constitutional Officers Association of New Jersey where she served as President from 2009 to 2010 and currently serves as Treasurer, Legislative Liaison and Deputy Section Chief – Clerks Division.  Honorable Melfi takes an active interest in new legislation affecting the Clerk's office and her constituents and will often appear before legislative committees offering testimony.
During our Reorganization Meeting, board members and the following Executive Officers will be sworn in to serve NJAC:
President Mary H. Melfi, Hunterdon County Clerk
1st Vice President Brendan W. Gill, Essex County Freeholder
2nd Vice President E. Marie Hayes, Cape May County Freeholder
Secretary-Treasurer John Cimino, Mercer County Freeholder
Immediate Past President Heather Simmons, Gloucester County Freeholder
At this meeting, we will also recognize the following 2017 outgoing county officials for their dedication and commitment to public service:
Atlantic County Freeholder John Carman
Atlantic County Sheriff Frank Balles
Burlington County Freeholder Director Bruce Garganio
Burlington County Freeholder Linda Hughes
Cape May County Surrogate M. Susan Sheppard
Cape May County Sheriff Gary Schaeffer
Cumberland County Freeholder Carman Daddario
Cumberland County Freeholder Jim Sauro
Essex County Freeholder Rolando Bobadillo
Essex County Freeholder Cynthia D. Toro
Hudson County Freeholder Gerard M. Balmir, Jr.
Hudson County Clerk Barbara Netchert
Hunterdon County Freeholder Robert Walton
Monmouth County Freeholder Gary J. Rich, Sr.
Monmouth County Freeholder Serena DiMaso, Esq.
Morris County Freeholder William "Hank" Lyons
Salem County Freeholder Director Robert J. Vanderslice
Somerset County Freeholder directorPeter S. Palmer
Somerset County Clerk Brett Radi
Union County Freeholder Vernell Wright
Union County Sheriff Joseph Cryan
Warren County Clerk Patricia Kolb
Following the ceremony will be a luncheon reception, catered by the Culinary Program staff and students of Hunterdon County Polytech, at the Historic Trenton Masonic Temple.
Congratulations to Mary, Brendan, Marie, John, and Heather!